Services
One of our core values at MQAttach is to provide our customers or potential customers with the best level of service and expert-level knowledge, experience in the areas we have focused our business on.
Our goal is have customers who are partners, based on mutual respect and trust, who are as interested in our success as we are in theirs.
We aim is to achieve the desired outcomes of the task we have been contracted to perform and help our customers expand their businesses and achieve operational efficiencies.
Taking into account our staff, aswell the complement of people we are contracted to we have over 20 years of experience in software development and expertise in Websphere MQ. Additionally we are one of the few companies at the forefront when it comes to implementing Websphere MQ MFT/FTE having had previous experience in these types of projects. Even if we don't have the required skills, we will source them from our network of contacts in order to get the job done.
In addition to continuous development and support of the MQAttach Product Suite we provide customers and potential customers the following services:
Migration and Implementation services from existing MFT Products to Websphere MQ MFT/FTE
We to assist customers with implementation and conversion from existing Managed Transfer Implementations to the IBM Websphere Managed Transfer solution. We have extensive experience in this aarea and have written a number of auto-conversion processes and procedures to make the process as seamless as possible. In addition as your conversion partner will will work with you to make the process is done right, on time, and within budget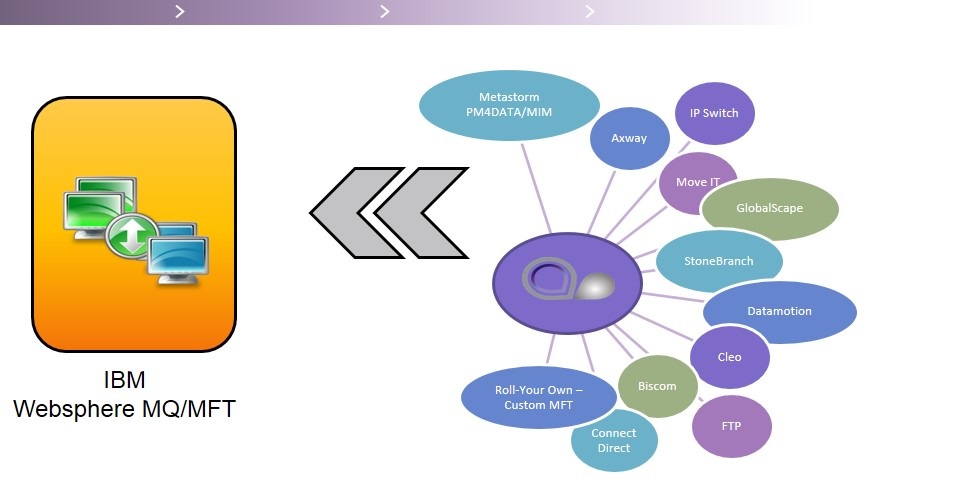 PM4DATA (MIM)
Axway
IP Switch
MoveIT
Globalscape
Stonebranch
DataMotion
Cleo
FTP Protocols
Biscom
Connect Direct
Roll-Your-Own (RYO)/Custom File Transfer Implementations
Consulting Services to your existing Websphere MQ MFT/FTE Environment
System Health Check
Performance and Optimization Improvements
As part of our service we will provide you free of charge tools to help manage your Websphere MQ environment through simple monitoring notifications and excel like dashboards
Custom Software Development Services
Our development team are passionate about coding, and are always looking for new concepts to implement to challenge themselves. We also try to keep up with the latest technologies and schools of thought and such we offer a range of development services that not only allow us to enhance our product offering but also create some really innovative solutions
Our services primarily relate to the areas where we have choosen to focus our core services, namely the Microsoft.NET Platform (C#, VB.NET, ASP.NET), Java, IBM Integration Bus Interfaces

Our preference is for fixed-cost contracts as this provides a sense of fair play on both sides and lets both sides get on with the job of getting the work done, instead of worrying about the financial details, however we do welcome variable contracts based on a time and material basis should a customer prefer
If you would like more information on our services, please contact our sales team at sales@mqattach.com